Corporal Francis Harry Piggott
Reg. No. 5078 (14th (King's) Hussars)
Died from wounds: 5 November 1914
Buried: Wimereux Communal Cemetery 1.A.14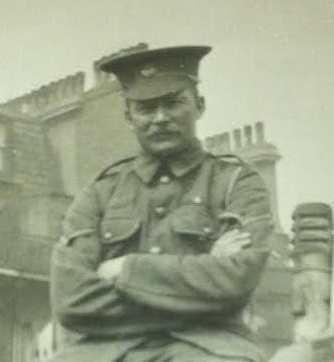 Francis Harry Piggott (1876 - 1914)
Harry Piggott was the most difficult of the Thurleigh war dead to trace, but his life is probably one of the most fascinating to write about, since he truly served his Queen/King and Country.
The problems in locating Harry in the first place stemmed from the fact that only his basic details appeared on the Roll of Honour, compiled in 2006. Clearly, the person researching it came across similar problems. First of all, he had not been resident in the village for many years prior to the war, although his mother, remarried at the time of the 1911 census, was resident. Second, he is listed as H Piggott, whereas his given first name was Francis. Lastly, he is listed on the War Memorial as being a sergeant, when the records show that he was a Corporal. None of that detracts from an amazing record of service. In addition, he was 38 when he died in 1914, almost twice the age of the majority of young men who died from this village.
Francis Harry Piggott was born in 1876 in Little Staughton. He was baptised at St Peter's, Thurleigh, on 3 September 1876. His father was William Barton Piggott and his mother, Lydia Asplin. Francis was the second youngest of five children (William, Elizabeth, Charles and Minnie) and his father died when he was just four years old, in 1880. The 1881 census shows them as living at Scald End.
Their mother, sometimes referred to as Elizabeth, remarried in May 1885 to Charles Andrews and she had a further four children. The 1891 census shows them living in Bletsoe where his step-father was a stone mason and Harry was a baker's apprentice.
The next that we know about Harry is that he enlisted in the army and served, first of all, in the Boer War. He is listed as being wounded at Wanhoop on 11 August 1901 whilst serving with the 10th Hussars (Reg. No. 3622) as part of the South Africa Field Force. In 1909, he married Gertrude Baxter (23) on Christmas Day 1909 at Ealing Parish Church. Their marriage certificate, later confirmed in the 1911, shows his occupation as a Prison Warder (Grade II) at Wormwood Scrubs. Their only child, Violet Gertrude, was born on 1 December 1910. She married Glyndwr John Court in 1937 and died on 23 June 2000 in Bridgend.
When the First World War broke out in 1914, Harry again enlisted and died from his wounds on 5 November 1914. His is buried at Wimereux Communal Cemetery. Wimereux was the headquarters of the Queen Mary's Army Auxilliary Corps during the First World War and in 1919 it became the General Headquarters of the British Army.

From October 1914 onwards, Boulogne and Wimereux formed an important hospital centre and until June 1918, the medical units at Wimereux used the communal cemetery for burials, the south-eastern half having been set aside for Commonwealth graves, although a few burial were also made among the civilian graves.
Perhaps the most fitting tribute to Harry comes via the obituary written in theThe Prison Officers' Magazine December 1914:
'A gloomy parade was witnessed at roll call, 5.50 a.m. on the morning of 12th November, when our Chief Warder, J. R. Green, promulgated the sad news of dear old Harry Piggott, who died of wounds received in action somewhere in France. He was a Reservist with the 10th Hussars, but before going to the Front was drafted to the Royal Horse Guards as Corporal of Horse. Poor Harry had a gallant record in the Boer War. He sailed with his Regiment in 1899 in the SS Lismore Castle, and was wrecked within sight of Capetown. After refitting, he joined Gen. French's Cavalry in the Relief of Kimberley. Shortly after he was struck with enteric [typhoid] fever, and sent home to England. When he recovered he was drafted out to re-join his Regiment. He was wounded whilst rounding up Gen. Schreeper in the Cape Colony; this laid him up for some time. But he again joined his Regiment, and was captured by the Boers whilst out scouting with a small patrol, and was kept prisoner for several days. He was then stripped of part of his clothing, and released. After wandering about for several days, he was picked up by a patrol of his own Regiment and remained in Africa until the end of the war. We can all imagine what Harry has done for his country. He was an Officer of gentle disposition, and well respected by all ranks in Wormwood Scrubs. The sympathy of all Officers and Staff is with Mrs. Piggott and her little one in this her sad bereavement. I enclose a copy of the letter sent by the Army Chaplain from Bologne.
BRITISH RED CROSS BASE
November 5th 1914
MY DEAR MADAM - I am very sorry to have to break the news to you that your husband, Corporal H. Piggott, died in Hospital at 4 o'clock today. We hoped he was getting better, and then lock-jaw set in and he died. We liked him so much, and he was so patient and good. I was with him the day he died, and prayed by his bedside. He had a room to himself, and he was so well cared for by Nurses night and day, and the doctors did all they could for him, but they could not save his life. One may be well proud of such men, for he did his duty well and fearlessly, and he has died a noble death. He will be buried in the Cemetery at Wimereuse tomorrow, with military honours. God bless and comfort you, and may his soul rest in peace.
Yours very sincerely
B. F. NUGENT, Chaplain
Lives of good men all remind us
We may make our lives sublime,
And, departing, leave behind us ----
Footprints on the sands of time.